Whether you've come to
Cabo San Lucas
to party for Spring Break or to hide from American authorities, you won't want to miss out on the best nightlife Cabo has to offer. So, grab your pesos and your amigos and get ready to party hearty, Mexican-style.
Don't eat before you go out, because the first place I'm going to introduce you to in Cabo San Lucas has some really terrific food.
The Cabo Wabo Cantina - Bar & Grill
is where the nightlife starts in Cabo. Cabo Wabo, located on Guerrero Street, is owned by rocker Sammy Hagar, who sometimes performs, especially around his birthday in October. Cabo Wabo, not only has its own signature tequila, it also offers a full dinner menu at their Tequila Factory restaurant. This place rocks nearly every night.
[You might also be interested
in this post:
Sammy Hagar Cabo Wabo Birthday October 2011
]
Wherever you start the night in Cabo San Lucas, you'll want to end it at
El Squid Roe
. What can I say about El Squid Roe that will do this joint any justice? Well, I've been to bars all around the world, and this place is easily the most fun bar I've ever been in. El Squid Roe gets packed nightly, and it has more energy on its three floors than I've seen at most football games. True, you may have to wear a diaper because getting to the restrooms isn't easy. But this place has it all: an open-air dance floor, waiters equipped with spray tanks of tequila, table-dancing. If you're offended by brief nudity, however, El Squid Roe may not be for you.
Across from El Squid Roe is the
Hard Rock Cafe
. Before you moan and groan about Hard Rock nightlife, the Hard Rock in Cabo San Lucas isn't exactly like the ones in the States. This Hard Rock does get its fun crowds, thanks to dancing and some good classic rock. Not a bad place to grab a burger, but the food here is just average. By the way, at these resort-type places, it's safe to drink the water and suck on the ice. Leave that nervous nelly friend of yours north of the border, please.
I'm not much of a gambler; my New York Giants let me down far too often. But if you are, you'll love the laid-back betting atmosphere of
Caliente Race, Sports & Book
in Cabo San Lucas. They offer international cuisine as well as a full bar and off-track betting.
Yeah, it's a total tourist joint, but
The Giggling Marlin
is also lots of fun. Located on Boulevard Marina, a couple of extroverted entertainers will have your girlfriend doing the Lambada and videotaping it. This is more of a show than anything, but it's a place that's definitely worth stopping by.
Whatever your pleasure, Cabo San Lucas nightlife offers it somewhere for a price. So, remember, keep your wits about you at all times, do Cabo Wabo for dinner and El Squid Roe late night, and you should be more than all right.
Source:
http://www.associatedcontent.com/article/46020/best_nightlife_in_cabo_san_lucas_pg2.html?cat=41
Mandala:
One of the newest super clubs in
Cabo San Lucas
, is super hip and state of the art. Boasting a roof top "beach club" complete with sun beds, hard wood deck and sand, indoor disco, VIP areas and more! This is quickly becoming one of the more popular places to go for a good night out!
Baja Junkie:
Words cannot express how grateful people are when you are offered a 4 hour long "happy hour"! 50% off all appetizers and drinks from 4-7pm daily!
Barómetro:
A nice, Miami style restaurant and lounge bar right in the heart of the
Cabo San Lucas
marina. A good option for those looking for a relaxing place to just have a drink.
The Pink Kitty:
By popular demand,
Avarus Nightlife
unveils the first true VIP nightclub in
Cabo San Lucas
. Featuring international DJ's, superior sound and lighting systems, exceptional bottle service and a sexy all female staff. The most fun you can have with your clothes on.
Nikki Beach
&
Passion Lounge:
Nikki Beach
is the ultimate beach club concept that brings dining, fashion, music and entertainment together to earn, as quoted by the London Observer, the undisputed reputation as being the
" The Sexiest Party on Earth "
. Here that you will find a unique blend of gorgeous people from all parts of the globe sharing languid afternoons and endless nights.
Nikki Beach
is world renowned for its surreal beauty and ambiance. It is one of the few places on the planet with champagne & cocktails at noon, accompanied by contemporary European delights & mood enhancing tunes, is a consistent reality. Inside the
ME Hotel
(by
Melia
) at Playa el Médano.
Rips Bar:
A tiny bar downstairs the
Cabo Wabo
and next to the
Jungle Bar
, whose main attractions are the low price of beer and, therefore, the younger crowd that attends it. Inside Plaza Mariachi on Marina Boulevard.
The Jungle Bar
. A fun place to hang out and listen to rock and alternative music. Plaza Mariachi, next to the Rips. Ladies Night every Saturday. Open from 10:00am - 4:00am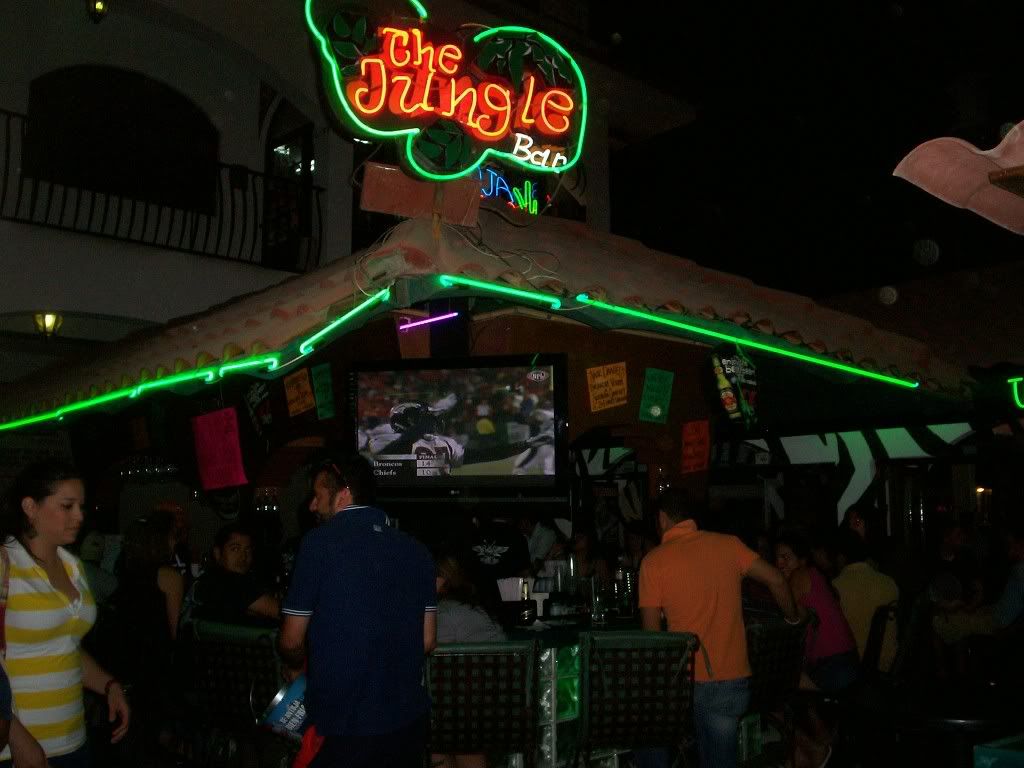 The Love Shack.
Tiny pub with a pool table and lots of junk hanging from the wall in a road house style. Especially popular on Wednesday Ladies Night. Excellent stop before hitting the Squid. Morelos and Niños Héroes street, around the corner from the Squid Roe. Open until 3:00 am
The Nowhere Bar:
Overpriced, yet trendy, the perfect place to watch and be watched. Inside Plaza Bonita, on the Marina. Ladies Night every Tuesday. Opened everyday from 11:00 am till 3:00 am.
Need private transportation from your hotel to any of these night clubs? Contact Us!
pltcabo@gmail.com or Phone: 011-52-1624-183-1069 Ask for our rates!