As we putted out on the first green of the Ocean Course at Palmilla Golf Club and walked back toward our cart, club manager Jason Ballog turned to me and said, "Now the fun begins."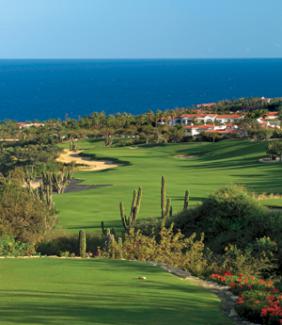 Arroyo Course, Hole No. 7
He was right. Not that the first hole wasn't fun, a warm-up par-4, but as we rounded a bend in the cart path and pulled up to the second tee, the splendor of golf in Los Cabos, Mexico, became crystal clear. A deep desert arroyo led downhill to a green neatly tucked into a hillside. Behind the putting surface the Sea of Cortez sparkled in the late afternoon sun. Fishing boats crossed the horizon in search of the day's last marlin, dorado or tuna. The cacti were blooming and the desert was unusually green.
"Looks like Scottsdale, but with an ocean," I marveled. And it's true: the desert golf courses at the tip of Baja California Sur will remind you of those gems in Scottsdale, Ariz. But in Los Cabos, the desert runs down to the sea. That's the good news. The more important information - at least while you're on the second tee of the Ocean Course at Palmilla - is that once you're done admiring the view you'll need to cross the aforementioned arroyo with your drive, and again on your approach to the putting surface.
In fact, as Ballog pointed out as I was teeing up my drive, the first having been overcooked left into the deepest part of the canyon, "Golf at Palmilla is defined by these arroyos and desert washes." And he proceeded to tick them off in his head. "Yep," he concluded a few minutes later, "23 of 27 holes either have arroyos bordering them or an arroyo you need to carry on one or more shots."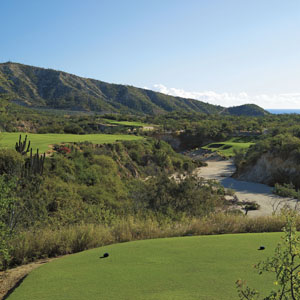 Mountain Course No. 5
The next couple of hours bore out his assessment. One of the first courses built in Los Cabos and still among the best, Palmilla Golf Club set the standard for golf development in the area when it opened in 1992. Today, though almost a dozen other courses have been opened for play within 25 miles, the 27 holes of Jack Nicklaus Signature-designed fun at Palmilla still tops many golfers' must-play lists. One reason for this - in addition to the design excellence and challenge of the golf course itself - is the level of service that Ballog and his team provide.
"We share Palmilla Resort with One&Only Palmilla and Del Mar Development," he explains. "That brings with it an expectation of quality, whether it be for playing lessons or just an icy towel to wipe your neck and face after a round."
The original hotel at Palmilla opened in 1956 and served for many years as a favorite getaway for Hollywood's more adventurous types. Ernest Hemmingway, Bing Crosby and other ardent fishermen came for "granders," the 1,000-pound blue and black marlin that still lure big-game anglers today, though guests now find a new level of elegance at this revered hideaway-by-the-sea, now known as One&Only Palmilla.
Oceanfront rooms and suites rank among the best in Mexico, and the amenities include the highly regarded Agua Restaurant and Lounge, a full-service spa where relaxing massages and treatments of all kinds are offered, and an unbeatable location on the beach, which promotes all kinds of oceanic adventures.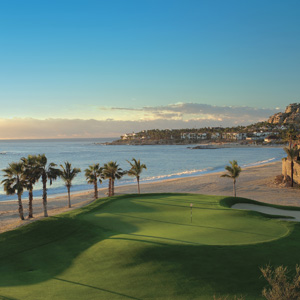 No. 3 on Ocean
The rustic golf clubhouse is a short shuttle ride away, and from there, three nine-hole layouts extend down to the shoreline and up into the desert foothills. Expansive ocean views are common, as are playing challenges, on almost every hole. Deep-cut bunkers, canyon washes and cactus-lined fairways demand a game of precision. Make sure to add the Ocean Nine into your round, as the holes hear are memorable.
A PGA Tour Academy opened at Palmilla this year for those who wish to improve their game (and avoid those deep-cut canyons!).
The Ocean Course is the most requested by those visiting Los Cabos, primarily because it winds out of desert foothills and down to the inviting shoreline at No. 3. A right-leaning par-4, a desert wash runs in front of the tee and all the way along the right side of the hole, allowing golfers to play a safer shot left - which leaves a longer second shot to the green - or cut off a bigger chunk of the yardage and risk not making the carry. On the hillsides bordering this lovely hole overlooking the Sea of Cortez are examples of the magnificent homes at Palmilla.
The routing turns back from the sea at this juncture and winds back into the foothills toward the clubhouse, along the way traversing several more arroyos and providing a good deal of fun.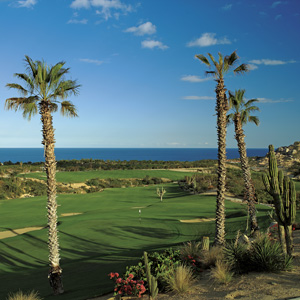 No. 9 on the Ocean Course at Palmilla
Many area residents and members, on the other hand, name the Mountain course as their favorite. It offers panoramic views of the coastline from a quiet elevation. Late in the afternoon, amidst the high desert cacti and colorful wildflowers and caressed by a cooling breeze, the Mountain Course can be a serene experience, while also playing the most challenging of the three nines.
The Arroyo side, meanwhile, is a resort-level course that still asks players to overcome desert washes on eight of nine holes either from the tee or to the green.
In 2008 all the greens and bunkers were renovated on the Arroyo and Mountain courses; and the same work was completed on Ocean in 2009. At the same time the driving range and practice area were improved.
If you're looking for the best golf experience in Los Cabos, Palmilla Golf Club is where the fun begins.
For more information, visit
http://www.palmillagc.com
.
Award-winning publisher, editor, writer and photographer George Fuller has been covering golf travel and lifestyle for more than 30 years. From 1992 to 1997 he was editor of LINKS-The Best of Golf, based in Hilton Head, S.C. In 2005, after having spent several years in the Pacific starting two magazines for Continental Micronesia Airlines and writing two books, Fuller launched GOLF LIVING Magazine for the Los Angeles Times, a "super-regional" magazine of travel, real estate and the lifestyle surrounding the game of golf. In 2009, he helped redesign and re-launch TEXAS GOLFER, a magazine with 25 years of history in the Lone Star State. Most recently, Fuller partnered with Troon Golf to launch TROON GOLF & TRAVEL, a monthly eMagazine with an annual print component. In addition, Fuller's newspapers and magazines credits include TIME, Wall Street Journal, San Francisco Chronicle, The Los Angeles Times, Robb Report, Coastal Living, Palm Springs Life, Estates West, GOLF Magazine, Golf Digest, Travel & Leisure Golf, LINKS, Successful Meetings, Honolulu and many others. He has reported for Reuters, United Press International (UPI), written for Copley News Service and is a regular on-line travel correspondent for Cybergolf. Based in Pacific Palisades, Calif., he can be contacted at gfuller@earthlink.net or 310/245-9550.
Source:
http://www.cybergolf.com/golf_news/the_southern_tip_of_baja_golf_as_good_as_it_gets
Are you planning your vacations to Los Cabos? email us at pltcabo@gmail.com, follow us on our blog, facebook or twitter and get a 15% discount of our published rates on a round trip private transportation service!. Offer valid through December 15th, 2011.