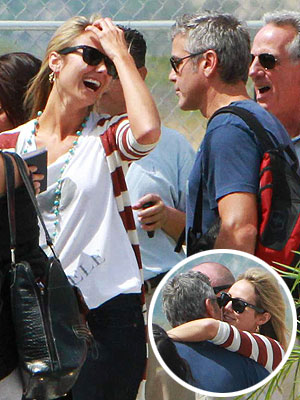 Summer is over, but George Clooney and his gal pal Stacy Keibler are living like it's still the sunniest season.
Jet-setting off to Mexico a few days before Keibler turns 32 on Oct. 14, the duo was photographed hugging upon their arrival in Cabo San Lucas.
"George is very sweet to Stacy," a source tells PEOPLE. "He gives her a lot of attention and is always complimenting her."
But this was not an intimate getaway. Clooney, 50, whisked away some of his girlfriend's friends, too.
And judging from Keibler's Tweets, it sounds like the
Ides of March
star did not disappoint.
"Chasing the last days of 'summer'," she wrote in a post that included a photo of a spacious, serene landscape featuring a beautiful pool and palm trees. Her take on the scene: "paradise."
"They don't really know where things are going to go, and it doesn't bother her," a Keibler pal tells PEOPLE. "They're just having fun, and Stacy is enjoying every moment of it."